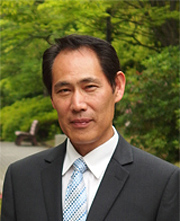 Eiji Hisamatsu
Dean, Center for the Promotion of
Global Education
Professor, Faculty of International
Hello, Everyone. I am Eiji Hisamatsu, Dean of the Center for the Promotion of Global Education (R-Globe). R-Globe is a platform for connecting the world. Our work focuses on developing partnerships with universities located internationally, and both sending students abroad and receiving students from overseas.
Here at Ryukoku University, our internationalization efforts are concretely focused on "developing global human resources who contribute to society" and "realizing a multicultural campus". We aim to cultivate capable individuals who possess rich humanity and education, are able to embody our school's founding philosophy in Jodo Shinshu Buddhism, and in understanding one's own culture, also have the ability to be receptive of other cultures and diverse circumstances. Furthermore, we stress overall the importance of coexistence and peace through dialogue. I feel that Ryukoku University aims for human resources who, with a global field of vision, are active not only overseas, but also in their local areas. For the purpose of creating a multicultural campus, it is necessary for our students to have the opportunity to interact in a carefree manner with international students, as well as diverse countries. It is the mission of R-Globe to provide multiple opportunities for such interaction.
Approximately 400 International Students study at Ryukoku University each year. While such students are enrolled in our Faculties and Graduate Schools, we offer the Japanese Language and Culture Program which prepares students for entry into undergraduate and graduate programs, as well as the Japanese Experience Program in Kyoto (JEP Kyoto). Furthermore, in addition to JEP-J which is designed for those who have had previous Japanese language study, the JEP-E study course was established in September 2017. The JEP-E study course is comprised of classes in English for students with no Japanese language study background. We earnestly desire to welcome international students from even more countries and regions to the city of Kyoto, a treasure house of traditional Japanese culture and historic architecture.
In addition to overseas exchanges for Ryukoku University students (As of March 2021, we have 119 Partner Universities in 34 countries and regions) and privately-funded study abroad, Ryukoku University also has an overseas base at the Ryukoku University Berkeley Center (RUBeC) though which we provide the Berkeley Intercultural English (BIE) Program, offering both long- and short-term language study and local fieldwork. Overseas English language training is also provided as a Common Subject (three weeks of language study in Australia during the Summer, three weeks of language study in Hawai'i in the Spring), as well as short term extracurricular programs for two to three weeks (Thailand, Singapore, Republic of Korea, etc.). The university has joined with globally expanding enterprises to offer Project Based Learning through our Global Career Challenge Program. In addition, our Global Commons space offers students several English learning opportunities, such as an English communication class, seminars by international students which introduce their country and culture, and discussions about English language newspaper articles.
Currently, physical international exchanges at various levels are stagnant due to the coronavirus pandemic. Instead, exchanges through the use of information and communications technology are bound to become more and more active.
As part of our R-Globe educational initiatives, we have initiated such activities through the newly-launched student organization "Global Supporters" (commonly known as "Glosapo"). Under the slogan "Don't give up on studying abroad / International exchange even in the Corona era", information is provided to those who wish to study overseas, and intercultural exchange/language exchange events are planned in order to promote the internationalization of Ryukoku University. Such events are held online and also offline, such as the provision of support for inbound international students who are facing difficulties.
In this era, we cannot ignore the necessity for internationalization and globalization. I believe the acceptance of diversity through the cultivation of a flexible attitude will aid in the realization of "tomoiki (symbiosis)". It is my deepest wish to be able to contribute to the promotion of internationalization in 'Ryukoku University fashion'.