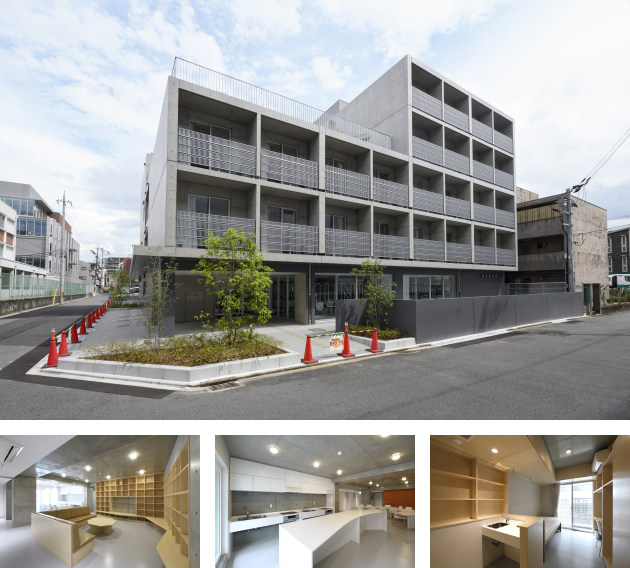 Address
612-0029 4-10 Nishiura-cho, Fukakusa, Fushimi-ku, Kyoto
※2 minutes on foot to Fukakusa Campus
Stations
5 minutes on foot to Ryukokudai-mae-fukakusa Station (Keihan Line)
15 minutes on foot to Kuinabashi Station (Subway Karasuma Line)
10 minutes on foot to Inari Station (Japan Railways)
Style
Single Rooms
Shared Facilities:
Shower rooms/bathrooms, kitchens (refrigerators, IH cookers), coin-operated laundry equipment.
Room Amenities:
Desk, chair, bed, reading light, air conditioner/heater, kitchenette, toilet, curtains, laundry pole
Internet
Available in your own room
Layout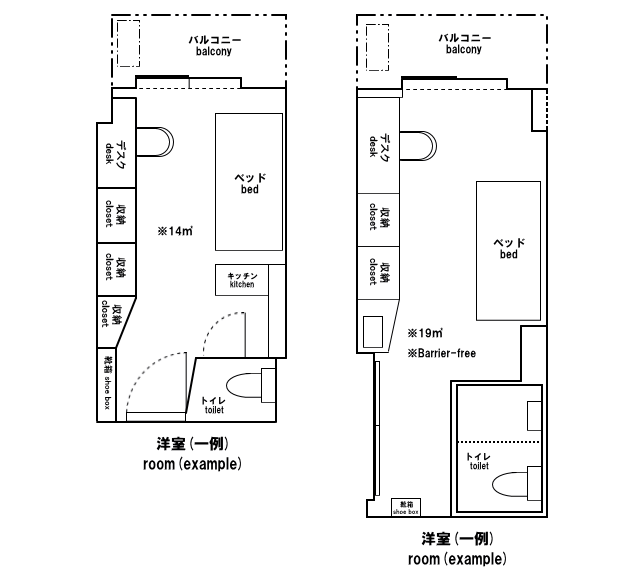 Costs
Rent: 35,000 JPY/Month
Monthly electricity and water charges 10,000 JPY/Month(fixed rate)
Deposit:
100,000 JPY (upon entry only)
Rental Term
1 year (It is possible to extend the length of stay)
Notes
Residents will need to provide personal cups, dishes, etc.
All Residents are required to rent bedding, which includes the following lease items: Kakebuton (heavy blanket), Shikibuton (mattress), pillow, wool blanket, towel blanket and two pairs of sheets, kakebuton covers and pillow covers.
Ryukoku University is considering offering a monthly rent subsidy of 10,000 JPY to all international students who live in Mitra-kan for the year 2021 only.
As a result, during the 2021 Academic Year (April 2021 to March 2022), students will be able to live in Mitra-kan for 35,000 JPY per month,including utilities. ; (the regular cost is 45,000 JPY without the rent subsidy).
If there are any changes to the situation, we will inform you as soon as possible.