From April 2015, Ryukoku University launched the Japanese Experience Program in Kyoto (JEP Kyoto), a program specially designed for incoming exchange students. Situation-based Japanese language classes, based on topic syllabi, are offered to accommodate exchange students from the beginner to advanced levels. Participants may also choose from a variety of elective courses taught in either Japanese or English. Furthermore, exchange students may also register for classes in Ryukoku University's Faculties and Graduate Schools.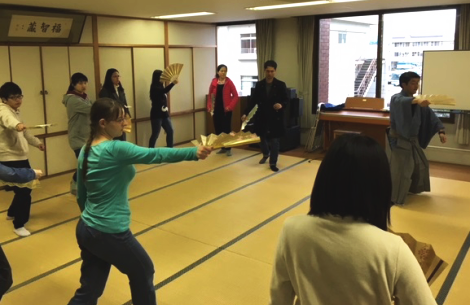 JEP-E [English Study Course within JEP Kyoto]
From Fall 2017, in order that we may offer our program to an even greater number of students, the JEP-E study course will be offered within the JEP Kyoto Program. JEP-E is recommended for those who have no Japanese language study background. The JEP-E study course offers classes taught all in English, as well as elementary Japanese language classes. Those who opt to take classes in the JEP-E study course may only take classes in JEP-E and from a designated selection of available faculty courses.
※IMPORTANT
Even if a student chooses to enroll in JEP Kyoto (Japanese) classes, the ability to do so will ultimately be determined by a Japanese language placement test administered during the Orientation period. It may be deemed necessary for students to enroll in JEP-E classes instead.
JEP Kyoto Study Course Flyers / Guides / Syllabi
JEP Kyoto (JEP-J Study Course)
JEP Kyoto (Flyer)
JEP Kyoto Program Guide 【2018 AY (SAMPLE)】
JEP Kyoto Syllabi (All Subjects + Japanese A) 【2018 AY (SAMPLE)】
JEP Kyoto Japanese B Syllabi【2018 AY (SAMPLE)】
JEP Kyoto (JEP-E Study Course)
JEP-E(Flyer)
JEP Kyoto-E Program Guide Syllabi【2018 AY (SAMPLE)】


Faculty Graduate School Classes Taught in English
(*Available for exchange students upon interest and schedule compatibility)
Subject List【2018 AY (SAMPLE)】
1st Semester Syllabi【2018 AY (SAMPLE)】
2nd Semester Syllabi 【2018 AY (SAMPLE)】
*These are samples only. The classes within are subject to change and may not be available in future semesters.